Butenet

Max's Travel Pictures

Shanghai

this page

Shanghai Food
sorted by the total cost of the meal

These pages will work better if you hit the F11 key for "Full Screen." F11 again when you're done.
Click on any picture to see it full size.


The drink with a lunch sandwich at a coffee place in the French Concession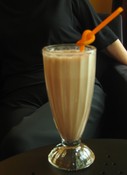 Shanghai Uncle
Would have been higher on the expense list if we had the dinner we ordered.
After we waited for an hour, a headwaiter came by to tell us that it was late and they wouldn't be making our main course.
This was the only meal I photographed all the dishes we had. I had plenty of time.
Dinner time in Shanghai is very early - probably 7 is the peak time for reservations.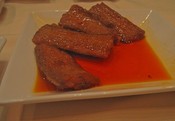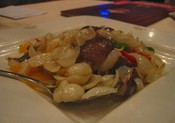 Songhelu Restaurant, the most prominent in the city of Suzhou, 100 km west of Shanghai..
No English spoken, but the headwaiter found a flimsy 1990 handbook
that translated many dishes and phrases so we could order.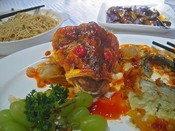 881 South Beauty
Elegant place, nice crowd, excellent food. A week later we went to another branch
of South Beauty in Pudong, which was also excellent but quite different.
There doesn't seem to be any push to make all the branches of the upscale restaurant chains uniform.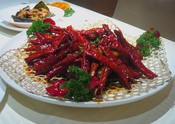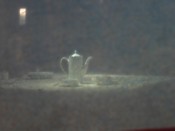 T 8 Restaurant & Bar
Xintiandi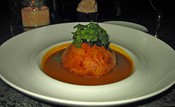 Whampoa Club
at 3 on the Bund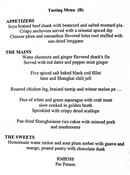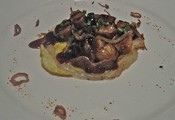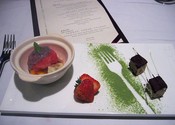 We also ate (but have no photos) at Crystal Jade (twice) and its competitor on the same floor of a mall at Xintiandi, Ding Tai Fung; Guyi Hunan (twice); Nanxiang Mantou Dian; Wu Da Niang; a Choufan restuarant in Suzhou; and the local braised ham in Zhouzhuang. And the world's best-cooked omlettes at the Four Seasons.