Butenet > Max's Travel Pictures > Egypt > Giza (here)

The Great Pyramids and Sphinx at Giza


This will work better if you hit the F11 key for "Full Screen."
Click on any picture to see it full size.
Click on the big picture to see the next one, or click on Index to return to this index.
F11 again when you're done.

Khufu's (Cheops) Great Pyramid
The only one remaining of the Seven Wonders of the Ancient World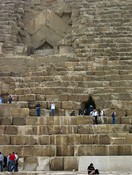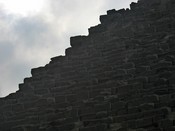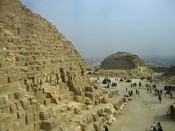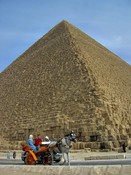 Near Khufu's Pyramid, his disinterred Solar Boat and other burial buildings.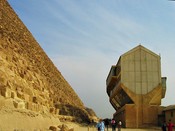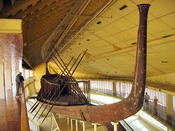 Khufu, Khafra, and Menakura Pyramids


Khafra's (or Khafre, Chephren) Pyramid
with facing stone remaining at the top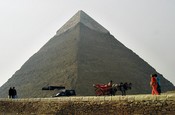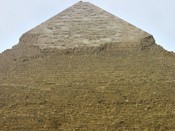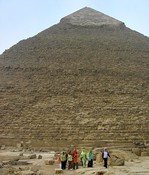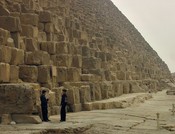 A viewing point
You can drive here to photograph the three pyramids lined up. After you learn how to fend off the camel drivers and souvenir sellers, it's fun to watch the other tourists negotiate, take fright on a camel ride, and amuse the vendors.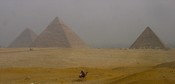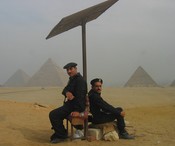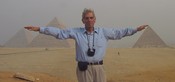 "This year ... at the foot of the Great Pyramids in Egypt, construction will begin on a $335 million museum, conservation center and conference center by the Dublin-based Heneghan Peng Architects, who beat out some 1,500 other applicants in one of the largest architectural competitions ever." - Virginia Gardiner, 2006-01-05, 'Dublin Design Poised to Break Out', New York Times, page F7, col. 2
© 2006 by Max Buten. Created using Thotor, Photo Thumbnail Generator!
---

This page last updated Jan 4, 2006.
Butenet home | john | MAX'S HOME PAGE | oliver | rosie | sarah