Singapore Signs
Singapore is full of detailed regulatory signs. The tone is that of a strict but benign father instructing his children. Singaporeans are expected to fall in line neatly. It works for them.

This will work better if you hit the F11 key for "Full Screen."
Click on any picture to see it full size.
Click on the big picture to see the next one, or click on Index to return to this index.
F11 again when you're done.

Is There Another Country That Openly Censors Magazines?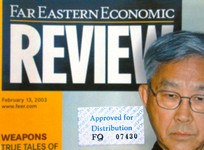 © 2003 by Max Buten. Created using Thotor, Photo Thumbnail Generator!
---

This page last updated Aug 7, 2003.
home | john | max's menu | rosie | sarah