Shwedagon Pagoda
In Yangon, Myanmar (Rangoon, Burma)

This will work better if you hit the F11 key for "Full Screen."
Click on any picture to see it full size.
Click on the big picture to see the next one, or click on Index to return to this index.
F11 again when you're done.
It's spectacular! A big central stupa, covered with bamboo scaffolding. We're just in time to see the parade of construction workers leaving. The Insight Guide enumerates the important sights from A to X. We see them all except the entrances in one clockwise turn around the pavillion, between warm 4:15 and a dark cool 6:30. Then we stay for a half hour to rest and watch the passing parade. The people have been quiet, respectful; not noisy, not exuberant. There's enthusiasm only at the day-of-the-week Buddhas which they "wash" - pour water on continuously. Spires, reflections, mediators, innumerable Buddhas, praying people, monks, tourists, tourist photographers, pros to take your picture at the pagoda. A few poor, some begging, but the guards don't allow it. Bells to ring, prayers to recite, special areas to pray for results in this life, boddhi trees - one grown from a shoot from Buddha's. Gold spires everywhere. Buddhas with neon halos after dark. A Buddha that women aren't allowed to see is on TVs; men are allowed, but it was closed for the day and anyhow I didn't have the required ticket. Immense spotlights. Giant binoculars to see the jeweled hti at the tippy top. A parade of sweepers at 5:30 that lifts the loose dirt from the white marble paving - but not the mud that builds up at the day-of-the-week Buddhas. Buddhas of every description: big-headed Burman, narrow, all four mudras and several other positions, at least three reclining, three of a kind together, size from gigantic to two feet and smaller, painted plaster, plaster being spackled, golden, bronze, white, with painted robes or with paint stripped for maintenance, with gold leaf being applied. It's spectacular!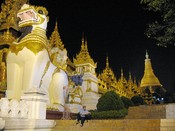 © 2005 by Max Buten. Created using Thotor, Photo Thumbnail Generator!
---

This page last updated Feb 21, 2005.
Butenet home | john | max | oliver | rosie | sarah