A side trip to the Peloponnese Click on a picture to enlarge it. Then click on the big picture to go to the next one.
"Full Screen" recommended - use the F11 key to turn it on and off.

We flew from Hania to the new Athens airport, which is a mess!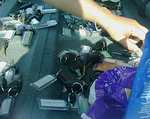 Corinth
Nemea, site of the Nemean Games
"Mycenae was the main centre of the Mycenaean world, and gave its name to a period and a civilisation that evolved throughout the entire Greek world between th 16th and 12th c. BC and spread to all the know sites of this period in the Mediterranean basin.". . . tourist brochure.
True; lots of Mycenean stuff in the Crete museums.
Epidaurus: A tour guide demonstrated the wonderful acoustics of the ancient ampitheater, still in use. Unfortunately, the sound doesn't photograph well.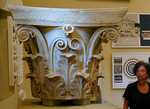 We stayed in Nafplio. It was crowded with weekenders from Athens.
Created and © 2001 by Max Buten using Thotor, Photo Thumbnail Generator!
---

This page last updated December 19, 2001. home | alexa | john | max