Krabi Area - Phang Nga Bay This will work better if you hit the F11 key for "Full Screen."
Click on any picture to see it full size.
Click on the big picture to see the next one, or click on the picture title to return to this index.
F11 again when you're done.

Map of Krabi and Phang Nga Bay Tapu (James Bond) Island




Long-tail trip to Hong Island
We rented a long-tail for the day - just the two of us with a boatman and his hammock for napping.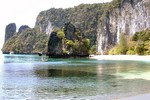 Phra Nang karst cliffs at Rai Leh






Food on Phra Nang beach, Rai Leh





Poda Island (Koh Poda) by long-tail






Boat trip to Koh Rock
Run by the Pimalai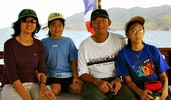 © 2001 by Max Buten. Created using Thotor, Photo Thumbnail Generator!
---

This page last updated Aug 6, 2003.
home | john | max's menu