A day in the Draa - Zagora to M'hamid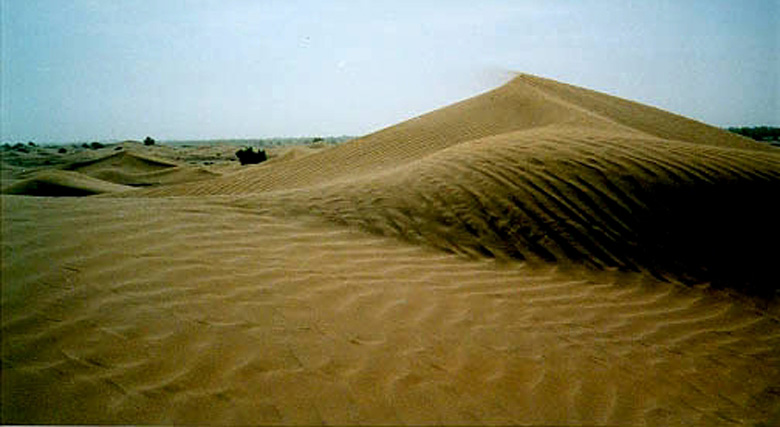 A sand dune outside of M'hamid, on the edge of the Sahara. There are snow fences to hold back the dunes, but they're no more effective than the snow fences facing the Atlantic Ocean at the New Jersey shore - the Sahara is gradually taking over the 100-mile long oasis that is or was the Draa river.

My journal for Monday Nov. 3,1997, Zagora to M'Hamid & back:
After getting a new tire, we speed to M'hamid at the END OF THE ROAD. I've arranged this part of the trip to go on market day, since Michelin gives this souk a star and says the nomads in blue bring camels to sell. In fact, it's a dull market - the big item is poor quality dates. There are no blue men (except touts) and no camels in use anywhere in Maroc except for the tourist rides. Yesterday's market in Zagora was poverty stricken but it was much bigger - and with some tables, not just cloth or plastic on the ground.
(Mike adds this: "We stayed with a family who were actively using camels as part of their pastoral lifestyle. If you go south near Goulmim you still find people using them as part of their everyday life.")
But in M'hamid there are dunes - I walk out in them while Gloria waits in the car. Mostly-buried bamboo fences interspersed with rain-hardened half-inch crust. In the wind, which is up, the tops of the steepest ones are blowing off horizontally, like the snows on Everest. The photo above attempts to capture this.
A little further along, the dunes attack the palms and a house.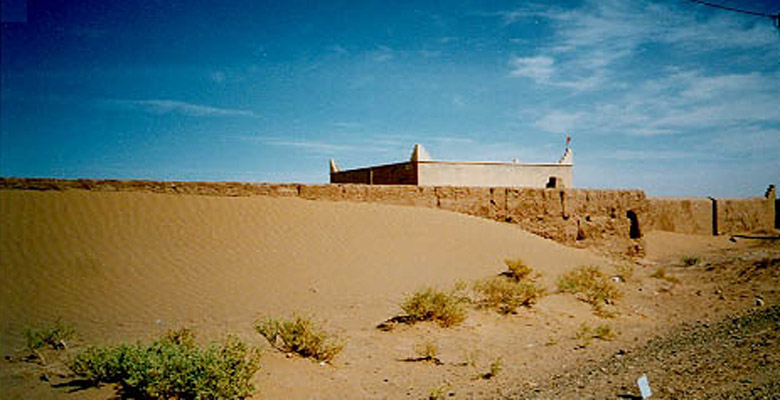 Then I stop to pick some dates. I slide down the sandy bank. I try to push myself back up on the sand, but get bamboo stickers in my hands and don't make any headway until I decide to grab one of the palm fronds to pull myself up the back side of the ditch. The palms with some red dates are the best I find. I pick two handfuls (they fall into my hands), keep them in my hat. Not as juicy as we had the other day, but satisfactory for what turns out to be lunch.
Back thru the stone desert, thru a pass with expansive view of desert and palmeraie. Stop at one of two places set up near the little field of dunes, the Bivouac, for coffee (cold and stale) and Judor (orange soda worse than Fanta). Poor place, with a dust storm, but with an adjoining new hotel which seems closed.
Back to our hotel in Zagora to shake the dust out and spend the rest of the afternoon at the pool.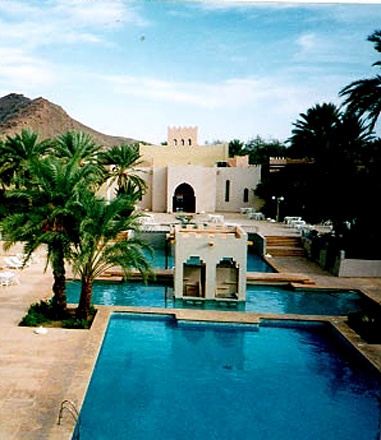 The elderly Frenchman is still here, as are a 30's French couple. She's red-dyed and yummy topless. Three French couples are playing cards. That's all! In 200 rooms!
More guests arrive for dinner:
50 French mountain bikers
a Spanish tour of 20 led by a pop eyed, overweight Moroccan with liver-trouble-yellow skin and a change of Djlabbas from brown (traveling) to Blue (for dinner)
a near bald French couple of some elegance (though in warm-up suits)
a cheap Spanish couple in a Peugeot with two young teenage girls. They order 2 dinners for the 4 of them; later I see them tip the porter with change.
an American(?) with black hair and a white beard in jeans who sits with one foot cocked behind him (but it's in an unusual thick tan rubber soled canvas shoe, so maybe he's European.) She's heavy and nondescript.
To bed early, up several times to watch Orion move past my window; then up at dawn for pictures of the beautiful sunrise.
---

This page last updated December 14, 2001.

home | john | max